2013 Pancake Breakfast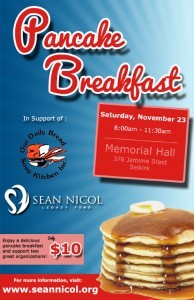 On Saturday, November 23 2013 over 195 supporters of the Sean Nicol Legacy Fund and Our Daily Bread Soup Kitchen joined us at Memorial Hall for our first Pancake Breakfast fundraiser.
For only $10, supporters enjoyed a heaping plate of pancakes, sausage and fruit and invested the these two great organizations.
Thank you to all of the volunteers who helped host this event and those who sold tickets. And thank you to everyone who bought a ticket and supported us. With all of your help, we raised over $2,000!
The money raised will be divided between supporting operation of the Soup Kitchen and investment in to Sean Nicol Legacy Fund, an perpetual endowment fund that provides grants annually to social justice organizations like Our Daily Bread Soup Kitchen.
Media Coverage
---
Photos